Normal price
retail price
€14,99 EUR
base price
problems
Salt
Sold Out
Material: 100% plastic Index: standard index Corner characters: 2 or 4 Back: blue or red pattern Surface: finely structured. Format: bridge size
Contains two decks of 52 cards + 2 x 3 jokers, suitable for popular card games such as rummy, poker, durak, mau mau, blackjack, skat, double head, bridge etc.
The dimensions of the playing cards themselves correspond to the typical Poker format of 89 x 57 mm (like the classic French sheet).
Thanks to the smooth surface of the front, our poker cards glide optimally over any table. On the back of the cards, the surface is finely textured, making it easier to lift the cards.

The material is very elastic and washable, so that the cards do not deform despite frequent use and remain playable for a very long time when used on the road or at home. The larger index allows the community cards to be easily recognised from any table position.

Both decks include a practical playing aid from which novice poker players can easily read the order of the hands.
Why a double pack?
If you let the last player in the hand, who is ahead of the dealer, shuffle the red deck for the next dealer while the current dealer is dealing the blue deck, you can increase the flow of the game a lot! The next dealer, when it is his turn to deal, already has a shuffled deck and can start playing immediately! The different colours of the cover pages help to avoid confusing the 2 decks.
We stand behind our products without compromise
In each deck there is a poker game aid that explains the value of the pictures and our well-known bullets guarantee card. If something is wrong with our cards, we can easily supply replacements.
Delivery time within Germany: approx. 3 days
Delivery time abroad: 5-9 days
Share
View full details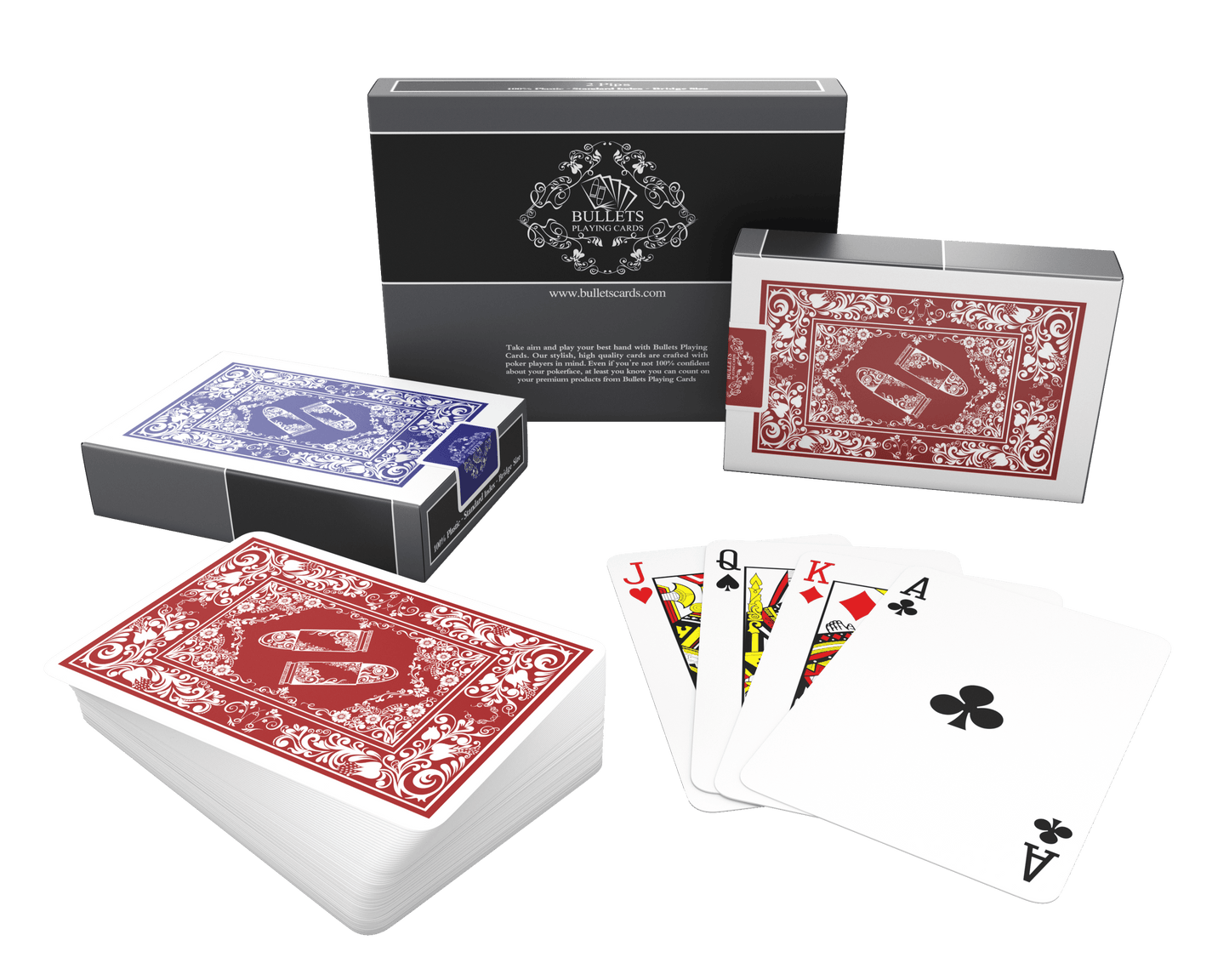 If you like poker, you'll love your bullets!
Tired of tattered maps and fluffy felt carpets? You want to use your poker accessories more than once, even if a beer is spilled in the excitement?
Free shipping in Germany

If the delivery address is in Germany, you do not pay any shipping costs.

Since we ship from Germany, we unfortunately have to charge shipping costs due to the high costs for shipments to other EU countries, which are calculated depending on the region and item in the checkout.

Customer satisfaction

Should it happen that a product is exceptionally defective, please contact us immediately via the contact form or at guarantee@bulletscards.com. We will take care of the matter as soon as possible.